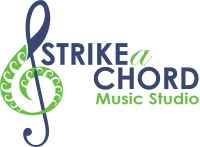 Welcome to your Music lessons with the Strike a Chord Music Studio. Studio Owner, Cherie Kaushal, has been trained to improve the students' knowledge, experience, enjoyment, performance and creation of music. With over 25 years' experience in music education, Cherie's passionate and thorough approach to teaching will ensure your child receives the best opportunity to grow in their musical ability. She happily passes on this knowledge by training all teachers in the studio to offer the best quality lessons to help share the joy of music with your child.
Work will be set each week and regular daily practice will be expected of all students. It is important that parents or caregivers give encouragement and support in practice sessions to ensure progress is made.


Instrument Requirement - Minimum of a TOUCH RESPONSE keyboard, or preferably an Acoustic upright Piano. All Guitar & Ukulele students must have their own instrument and bring it to their lessons each week.


Tonara practice app will be used for all Cherie's students - a log in will be sent to you once you have enrolled and paid for your first term.


Please ensure that your child attend regularly and are punctual. Lesson times cannot be made up for late arrival. All lesson cancellations can be made via My Music Staff. Please see the cancellation policy below


Practical & Theory exams are offered with ANZCA (Australia, New Zealand, Cultural Arts). These are available for Classical Piano, Modern Piano, Keyboard, Guitar & Ukulele. Please speak to your teacher for more details.


The Terms fee of $36.80 per 30mins x no. of weeks (individual), $36.80 per 60min (group piano), $21.30 per 30mins (group Guitar only) is due during the first week of each term 45min ($52.50) & 1 hour ($70) lessons for advanced pupils. All fees are inclusive of GST


$10 late fee will apply if fees are not paid by due date and weekly payments are not accepted. This is so you have purchased your lessons for the term, any missed lessons must be paid for and pupils not attending a lesson forfeit that period. Purchases of music from the teacher must be paid for at the following lesson.


A $10 fee per child per term will be added to your invoice which will cover the cost of all supplementary material that is used during lessons.


Please log on to My Music Staff to view your account including newsletters & events and to book any make-up classes from the available times.


All Piano & Keyboard students are expected to access supplementary material via the www.Supersonicsplus.com website or app. Log on details will be given at first lesson.


School lessons - Students are expected to arrive at their lesson at the correct time, teachers will do their best to look for the student however if they can not be found within a reasonable amount of time the lesson if forfeit.
Cancellations:

If notice of more than 24 hours is given, a make-up credit will be issued via My Music Staff which is valid for 120 days. A maximum of 5 make-up credits will be issued within 1 year.
Less than 24 hours, the fee will be forfeited and no make up credit issued.
Missed lessons due to forgetfulness or lateness are forfeit
Fees are charged at 50% to reserve your lesson time if pupil is away for an extended period of 3 weeks of more for holidays or any other reason during term time.